PREVENT RECALLS AND PROTECT YOUR BRAND WITH HD PRINTSAFE
Recent revelations surrounding the safety of medical devices[1] have prompted government and industry players to ask tough questions about how best to regulate these healthcare products and how to better manage product recalls.
A single recall can cost companies as much as $600 million, not to mention the potential drop in stock price[2] and consumer confidence in the affected brand. More than half of all medical device recalls initiated by the U.S. Food and Drug Administration since 2014 have been due to packaging and/or labeling errors.[3]
Product recalls are not uncommon and do not discriminate among industries. In the first quarter of 2018, for example, 84 pharmaceutical companies in the U.S. reported at least one recall.[4]
Outdated printing methods are often to blame, creating recurring issues such as ink spills and inconsistent print quality at both the labeling and packaging stages. Also, aging equipment typically requires more set-up time at the beginning of a batch, creating unwanted downtime. The solution: better printing technology.
The printed information used to identify pharmaceutical products and medical devices consists of two key elements: the artwork illustrating the logo and product details, and the variable data showing the expiration date and lot number. Different processes can be used to print these, and aging printing methods are still widely used, such as inline flexographic printing, outsourced blister foil printing and embossing tools.
If you are currently using one of these printing methods, ask yourself: "At what cost?"
Consider that flexographic printers require investment in print mats that must be changed, factor in a changeover time of at least 30 minutes and calculate the amount of packaging material that is lost due to printing tests, which are necessary to verify and obtain the desired product quality. And that's just the beginning. All this time spent adjusting the printers or fixing printing problems is time that is no longer available for packaging. Then there are material and inventory costs, and the list goes on.
Moreover, outdated printing methods do not provide the flexibility required when printing artwork and variable data on small print areas such as pharmaceutical unit doses. For the pharma industry, unit-dose serialization is the only way to ensure patient safety and protect the global supply chain. Although there are currently no regulations, it is expected that this level of serialization will eventually be required or that companies will take the initiative to implement it to protect their brand.
Investing in serialization and appropriate, up-to-date printing and vision equipment is the solution.
ALL-IN-ONE, DROP-ON-DEMAND PRINTING AND INSPECTION SOLUTION
An all-in-one, drop-on-demand (DOD) printing and inspection solution such as OPTEL's HD PrintSafe is ideal because it certifies that the right information is being printed. DOD is a computer-controlled printing technology. The information is first sent to the vision system, which will then transfer it to the printer. Once the printing is completed, it is inspected, and the vision system compares the information that was sent to the printer with the information that was printed.
Because they are computer-controlled, 100% DOD printing solutions need to be combined with a vision inspection system. This way, the vision system can validate that the printed information is accurate, and the quality is satisfactory and consistent.
Adding a vision system saves time and money and brings peace of mind. With a vision system, any problem that occurs is automatically reported and corrected.
The vision system, therefore, is needed to guarantee the quality and accuracy of the printed data.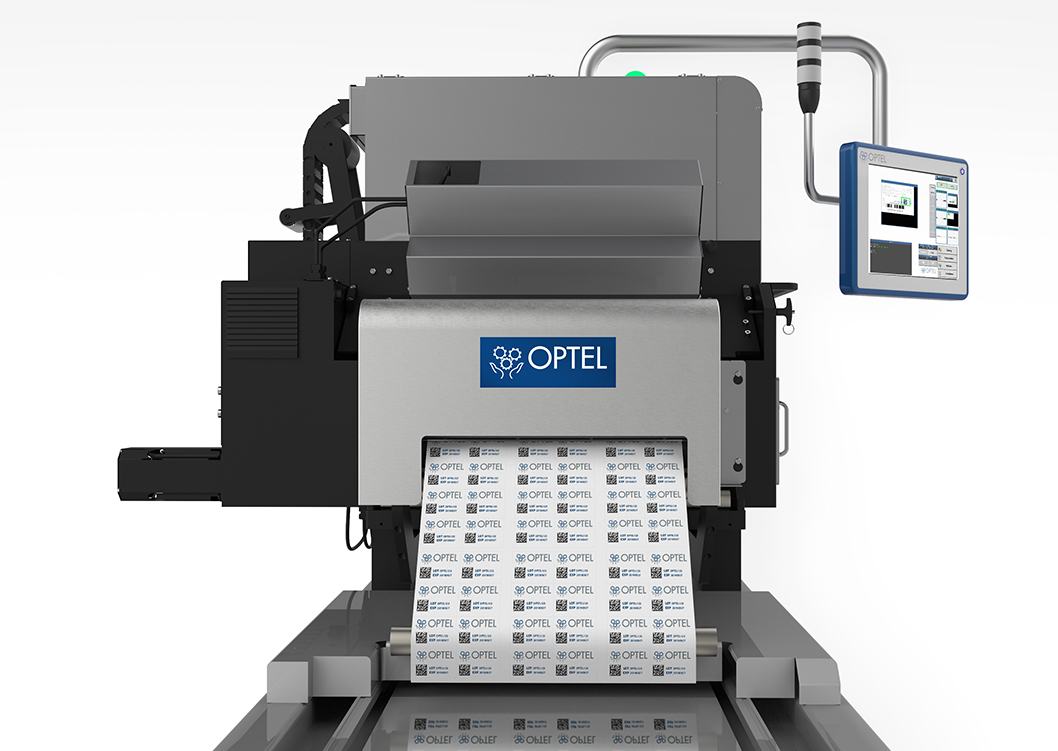 BENEFITS OF OPTING FOR A 100% DOD SOLUTION COMBINED WITH A 100% VISION INSPECTION
DOD printers such as OPTEL's HD PrintSafe offer high resolution and multicolor variable data printing. With UV cured ink, they can print on almost any type of substrates. The print quality is consistent and does not depend on manual adjustments.
DOD printers do not require any mechanical adjustments between batches. Therefore, 30 minutes can be saved between every batch changeover, which increases the overall packaging capacity.
DOD printing solutions offer the flexibility required by pharmaceutical and medical device manufacturers and CMOs. They minimize downtime and eliminate any associated costs.
In addition, DOD printing solutions combined with a vision system will allow unit-dose serialization, which is the only way to fully secure the healthcare supply chain, for the safety of patients worldwide. At the same time, it helps manufacturers protect their brands and reputations against counterfeiters.
Would you like to take the next step? OPTEL's experts will help you find the perfect solution for your needs and ensure the quality of the printing and labeling of your products.
[1] https://www.icij.org/investigations/implant-files/
[2] McKinsey & Company, The Business Case for Medical Device Quality, 2013
[3] https://www.stericycleexpertsolutions.com/top-5-causes-of-medical-device-recalls/
[4] https://www.statista.com/topics/3102/pharmaceutical-and-medical-device-recalls/