STAYING COMPETITIVE THROUGH INNOVATION AND DIGITIZATION
Vanessa Grondin, our vice-president and head of global strategy for the food and beverage industry, had the opportunity to take part in a panel discussion titled Semer les graines de la réussite (sowing the seeds of success) during the International Economic Forum of the Americas in Montreal on June 11, 2019. The other speakers were also major industry players: Sébastien Léveillé, CEO, Sollio Agriculture; Lise Gagnon, VP Marketing, Research and Development, Olymel; and Robert Coallier, CEO, Agropur.
They talked about the evolution of this highly competitive market, where collaboration is now a must to create new opportunities. The importance of research and innovation was also discussed, as well as the advantages of increased transparency and digitization. Here is a summary of the panel discussion, which was in the form of a question-and-answer session.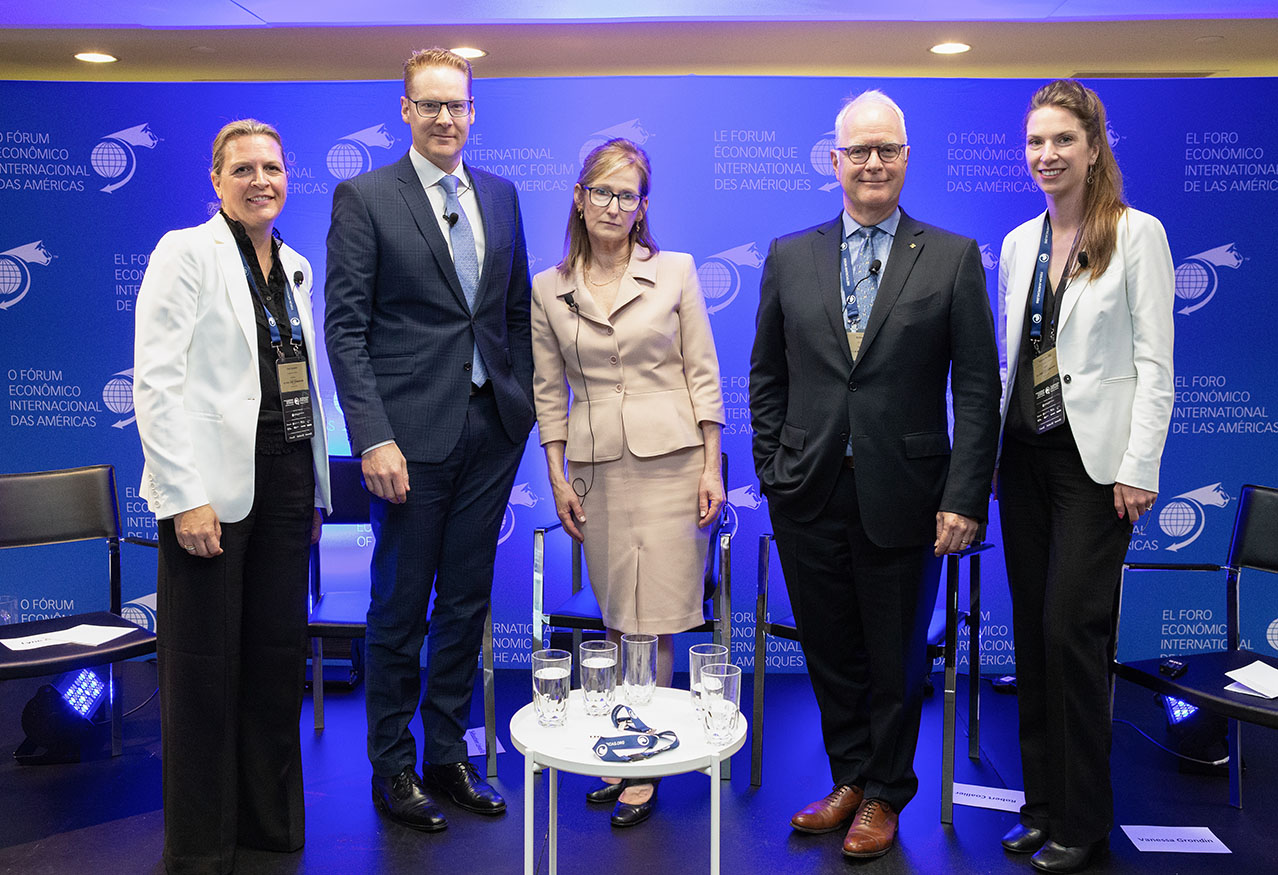 HOW CAN COMPANIES IN THIS INDUSTRY COLLABORATE TO SHARE EXPERTISE AND KNOWLEDGE SO THEY CAN CREATE NEW OPPORTUNITIES FOR FARMERS, FOOD TRANSFORMERS AND CONSUMERS?
That's a very interesting question to look at from a technology perspective. I'll start by asking a question. In your opinion, what is generally unstructured, managed according to variable standards among companies, and has the potential to increase your organization's efficiency by 20 percent? The answer is the digital data in your supply chain.
There are currently two heavy trends in data that have the potential to generate a lot of opportunities in the short and medium terms.
The digitization of supply chains
The growing need for transparency for the different stakeholders
In the last two years, we've heard a lot about digital end-to-end traceability in the food and beverage industry. The idea behind digital end-to-end traceability is to connect all the links in the chain, from the farm to the end consumer. By doing this, we digitize the links in the chain that were maybe not linked before, and we obtain a great volume of data that can be leveraged to solve various business problems. One area where the industry could collaborate more is in the adoption of data standards as well as in its willingness to share digital data in a confidential and secure manner. Technological tools allow greater transparency, and that's what consumers and brands are asking for and are starting to demand.
WHAT ROLE DOES TECHNOLOGY PLAY IN THE INNOVATION OF PROCESSES AND PRODUCTS?
I'll focus on innovation of products, and more specifically the digitization of products as a vector for the client relationship. Currently, for a consumer product, a brand wants to take advantage of product digitization to get a better idea of their client profile, to know where the product was consumed, to avoid fraud and diversion, and to automate customer service via chatbots. For their part, consumers want to better understand the real source of certain ingredients, to interact with farmers, to be part of the community, etc. That's the current vision.
You all know there is significant pressure in the food and beverage industry to reduce single-use plastic packaging.
Yesterday, the Trudeau government announced that it is working on a bill to ban single-use plastic packaging by 2021. Last week, Loblaws announced a pilot project with TerraCycle to put President's Choice products in returnable packaging. This business model rests on the value of data generated for marketing purposes for brands and retailers. In a context where reusable packaging will become more and more common, digital traceability becomes essential. Since the packaging will change more often, digital traceability will make the packaging and content communicated by the brand to the consumer more dynamic.
IN YOUR OPINION, WHERE SHOULD FOOD AND BEVERAGE COMPANIES FOCUS THEIR R&D INVESTMENTS TO FOSTER INNOVATION?
Investments should be put into digitizing the supply chain to promote food safety and to optimize operational efficiency and digital customer relations. I could talk to you for a moment about scale ai, which is a $500-million federal supercluster that finances projects aimed at using artificial intelligence to improve the supply chain. Artificial intelligence provides digital, standardized and structured data, and the cluster reimburses 40 percent of eligible expenses to the interested parties.
HOW CAN CONSUMER TASTES INFLUENCE THE FUNCTIONING OF THE FOOD AND BEVERAGE INDUSTRY? HOW CAN THE INDUSTRY ADAPT TO POTENTIAL TRENDS?
Definitely, if we continue on the theme of packaging, consumers, and more specifically Millennials, are very sensitive to these problems and have a lot of influence on the food and beverage industry. I'll give you a concrete example of the type of projects that are very popular in Central and South America. Beverage producers and bottlers have two types of bottle inventories: single-use bottles and reusable bottles. Companies want to trace their rolling inventory of reusable bottles for several reasons. First, they want to characterize the quality and quantity of the bottles that go through their channels. Second, they want to characterize the consumer trends in a given territory and eventually improve the inventory of returnable bottles to benefit single-use bottles. The reason: Reusing bottles generates operational savings. Finally, certain brands use digital traceability as a marketing tool with their clients.
Learn more on our traceability technologies for the food and beverage industry